Researcher of the Year 2015 - Lawrence Schwartz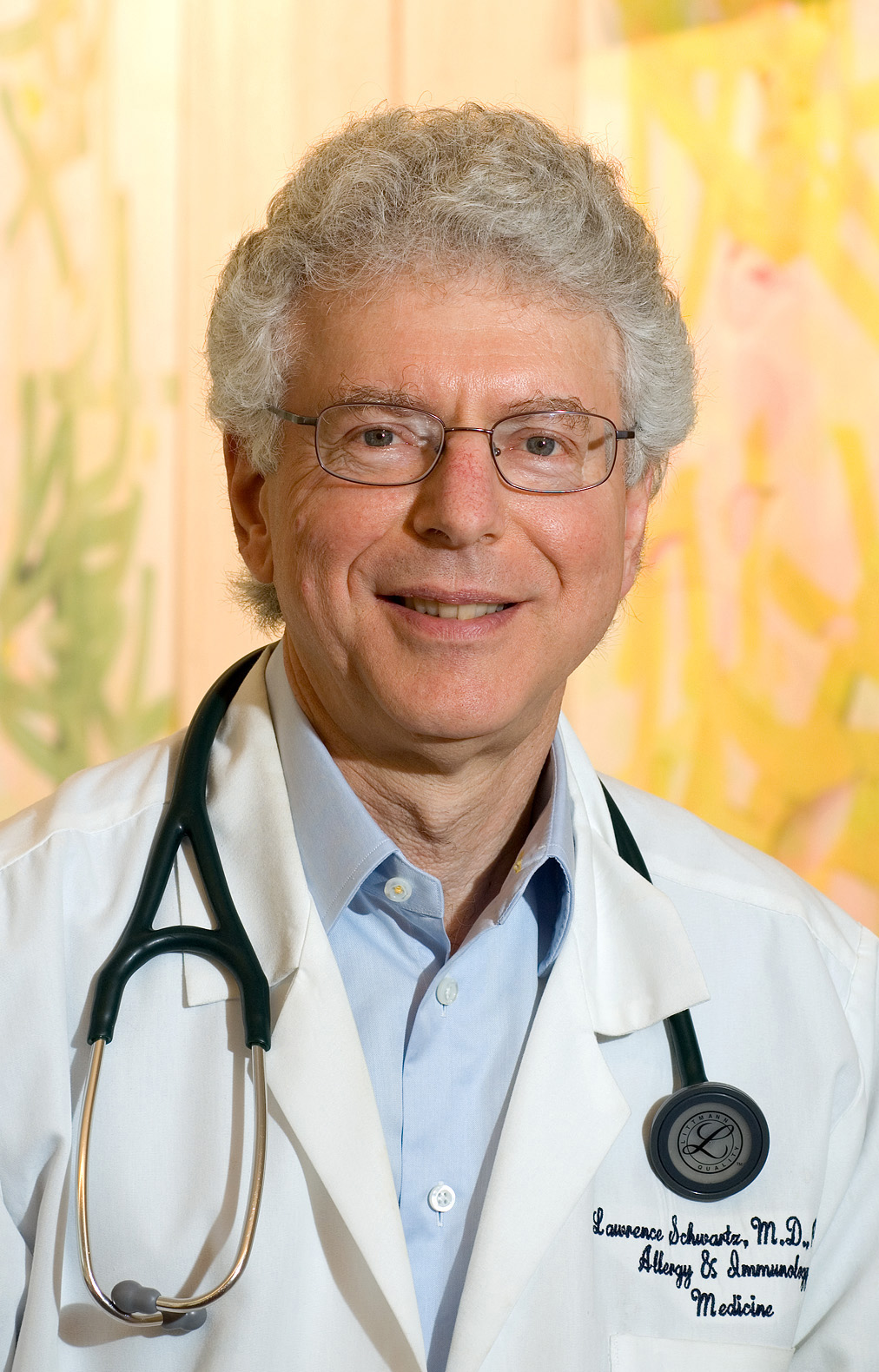 Lawrence Schwartz received his MD and PhD (Biochemistry) degrees from Washington University in 1976, and then completed an internal medicine residency (Barnes Hospital) and fellowships in allergy and immunology (Brigham & Women's Hospital), rheumatology (Brigham & Women's Hospital) and diagnostic laboratory immunology (Virginia Commonwealth University).
Dr. Schwartz joined the faculty at Harvard in 1979 (Instructor), where he was promoted in 1980 (Assistant Professor), and then moved to Virginia Commonwealth University in 1983, where he is now the Charles and Evelyn Thomas Professor of Medicine, Chair of the Division of Rheumatology Allergy and Immunology, and Program Director of Allergy and Immunology. Lawrence Schwartz is an innovative and leading translational research investigator who has made fundamental discoveries about mast cells and basophils, publishing over 350 manuscripts.
Noteworthy accomplishments include the discovery, purification, cloning and characterization of human α/β tryptases, creation of immunoassays for tryptases as biomarkers of disorders involving mast cells, development of in vitro conditions for the differentiation of mast cells from progenitors and for culturing tissue-derived mast cells, and the identification of two types of human mast cells. His assay for total tryptase is now used throughout the world to facilitate the diagnosis of systemic mastocytosis (a WHO criterion and FDA approved for this purpose), helping to reveal this disorder in many patients for whom it might otherwise have remained undiagnosed. The assay is also used to help diagnose mast cell-dependent systemic anaphylaxis, to monitor mast cell cytoreductive therapy, and to assess anaphylactic risk in patients who are sensitive to insect venom. High levels of tryptase in bronchoalveolar lavage fluid have been instrumental in showing mast cell activation in asthma and during adenosine- and exercise- induced bronchospasm.
Dr. Schwartz has been recognized by VCU with an endowed Chair and awards for research and innovation; nationally by his research grants, including continuous NIH funding for over 30 years and an NIH MERIT award, election to honorary societies, i.e., the American Society for Clinical Investigation and the Association of American Physicians, and to leadership positions, i.e., Past Chair of the ABAI, Clinical Immunology Society, AAAAI Program Directors Assembly and Grant Review Committee, and NIH study sections; and internationally by his numerous invitations to lecture and collaborate. In 2015 he received the Distinguished Scientist Award from the American Academy of Allergy Asthma and Immunology, and the Researcher of the Year Award from the European Competence Network on Mastocytosis.