Researcher of the Year 2022 - Cem Akin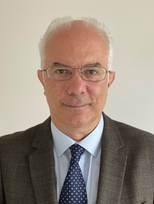 Dr. Cem Akin is a Professor of Medicine at the University of Michigan. He obtained his MD degree from Istanbul University School of Medicine in 1988, and PhD in Microbiology and Immunology from University of Louisville in 1995. After completing his training in Internal Medicine at the University of Louisville in 1996, he completed his fellowship training in Allergy and Immunology at the National Institute of Allergy and Infectious Disease/NIH in 1999. He stayed at NIH until 2004 when he moved to University of Michigan as an Assistant Professor, then to Brigham and Women's Hospital, where he was an Associate Professor at Harvard Medical School and established the first multidisciplinary Mastocytosis Center. He moved back to University of Michigan in 2017 as a Professor.
His research interests include the role of mast cells in human health and disease, pathophysiology of mastocytosis and anaphylaxis, and new treatment modalities for mast cell disorders. Among his key contributions to the field are the first demonstration of multilineage hematopoietic involvement of KIT D816V mutation in mastocytosis, first description of the novel disease variant called well differentiated systemic mastocytosis, first report of successful treatment of mastocytosis with a KIT-targeting tyrosine kinase inhibitor, demonstration of clonal mast cell involvement in a group of patients with idiopathic anaphylaxis leading to description of monoclonal mast cell activation syndrome, establishment of the LAD2 human mast cell line, proposal of diagnostic criteria and classification of mast cell activation syndromes, and studies on tyrosine kinase inhibitors.
He was a collaborator in Vienna consensus meetings on mast cell diseases and a co-author on WHO criteria for diagnosis and classification of mastocytosis. He is a scientific advisor to the ECNM and a founding member of the American Initiative on Mast Cell Disorders.
He has more than 200 publications including original research articles, reviews, books and book chapters. He was elected to the Board of Directors of the American Academy of Allergy, Asthma and Immunology (AAAAI) in 2021. He was awarded "Researcher of the Year and recipient of European Competence Network on Mastocytosis medal" in 2022. He divides his time between an active clinical practice including patients with mastocytosis, clinical research and teaching fellows and residents.